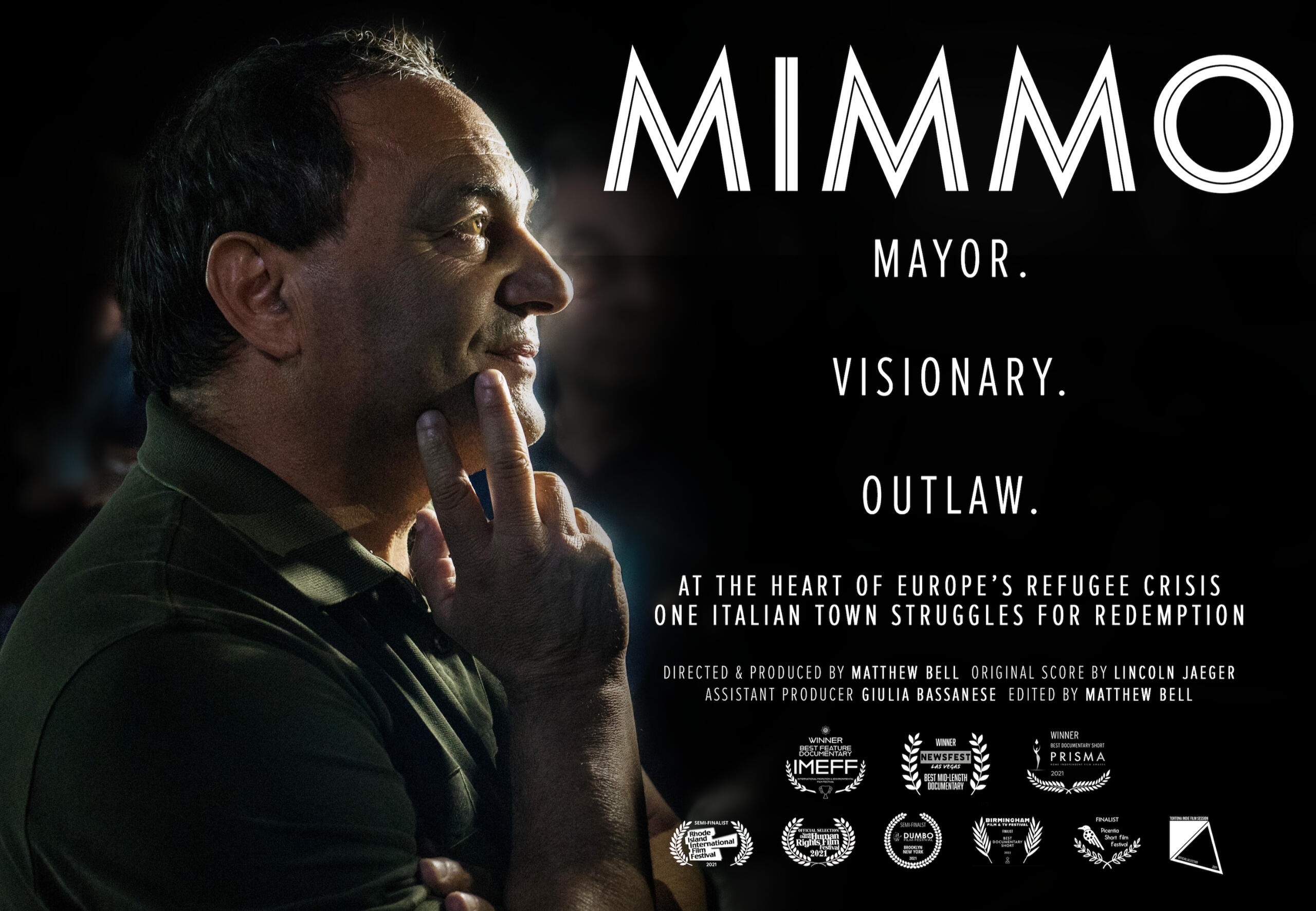 MIMMO
WINNER Best Feature Documentary, Nottingham International Film Festival
WINNER Best Feature Film, International Migration & Environment Festival
WINNER Best Mid-Length Documentary, Newsfest Las Vegas
WINNER Best Documentary Short, Rome Prisma International Film Festival (May 2021)OFFICIAL SELECTION North Dakota Human Rights Film Festival
OFFICIAL SELECTION Love Wins Film Festival, New York
OFFICIAL SELECTION Tortona Indie Film Session
SEMI-FINALIST Flickers' Rhode Island International Film Festival (BAFTA-qualifying)
SEMI-FINALIST Dumbo Film Festival, New YorkFINALIST Birmingham Film & Television Festival
FINALIST Picentia Short Film Festival
NOMINEE Best Original Score, Rome Prisma International Film Festival (May 2021)
Making 'Mimmo'
In October 2018, an Italian mayor was banished from his home town after being accused of corruption and malpractice.Under laws usually reserved for mafia bosses, he was ordered to leave the place of his birth until his case was heard. At the time Italian politics was gripped by populist fervour, and supporters feared he had fallen victim to attempts to blacken his name and remove him from office.That mayor was Domenico Lucano, named by Forbes in 2016 as one of the world's greatest leaders. Lucano had founded a refugee welcome project years earlier in a final, desperate effort to rejuvenate his town of Riace, drawing new workers from the steady flow of refugees and migrants landing on Italy's shores.
In May 2019, new elections forced locals to choose between Lucano's liberal-minded reforms and a populist agenda put forward by supporters of the right-wing League party, which had pilloried the mayor for his refugee-friendly stance.Allowed back to Riace for just one hour to give his campaign speech, Lucano found himself justifying the welcome project he had founded decades earlier, long opposed by many and which had attracted world-wide media attention, for good or ill.'Mimmo' is the story of that week in May 2019 when a small-town local election seemed to bring the forces of populism head-to-head against his own vision of a more accepting, open-minded society. When everything Lucano had fought for hung in the balance.
BENEATH
A tongue-in-cheek tribute to sci-fi, made for London Short Film's 90-second movie contest. With Erik Ros and Emily Cox.OFFICIAL SELECTION: Unrestricted View Film Festival, London, UK, April 2019
OFFICIAL SELECTION: Exploding Cinema, London, UK, December 2018
OFFICIAL SELECTION: Sci-Cine Film Festival, Leicester, UK, November 2018
OFFICIAL SELECTION: London Short Film 90-Second Sci-Fi Contest, April 2018
The Truth (Behind the Scenes)
When a friend tells you he's shooting a short film and asks if you'd like to take behind-the-scenes photos, somehow the answer is always going to be 'Yes!'.Ben Brundell's mockumentary 'The Truth' was shot on a single day at Little White Lies in London. The lights were blazing, the extras were buzzing and Ben was poring over every shot and the tiniest inflections of each line.In some ways I was relieved to be behind my camera, grabbing those moments that may or may not make the final cut, instead of directing a delicately poised script in such a tiny window of time. You can see the intensity in Ben's calm-but-steady glare, his complete absorption in every sinew of the production.I'm strangely proud of the shots I came away with, quick flashes of reminiscence in the great froth of film-making.
Sofar Sounds
What started as a low-key jam session in a London flat in 2009 has now spread to over 300 cities, attracting thousands of artists and music-lovers to quirky locations in every corner of the globe.Sofar Sounds has evolved in giant leaps since that first impromptu gathering but stays true to the ethic - unearthing musicians you've probably never heard of and giving them the space to perform in a chilled, respectful atmosphere.
Sofar Sounds effectively gave me my start as a photographer, letting me into their world to capture the small moments and fleeting images that create the tapestry of memory.It was a hard slog, often shooting in low light and then labouring over which photos to include and how to bring out the best in them, all before deadline. It seems a far cry from video and film-making and yet the similarities are manifold and striking.
Freelance Producer/Director, Edit Producer and Video Editor.Known for the mid-length documentary 'Mimmo', a profile of Italian mayor Domenico Lucano, heralded as one of the world's 50 greatest leaders by Forbes magazine in 2016 for his pioneering refugee work and rejuvenating the struggling town of Riace.Producing credits at top British production houses including BBC Studios, ITN Productions, BriteSpark Films/Argonon and Channel 4 News. Writer and director of narrative shorts including 'Seduction', 'The Runner' and 'Beneath'.Extensive experience in research, development, field producing, shooting and editing for high-end TV output, corporate video, short-form and long-form content; photography and photo editing; working with top onscreen talent; scripting for TV, video and news; and researching and writing in-depth features and analysis for websites, newspapers and magazines.Experienced user of Adobe Premiere Pro, Avid Media Composer, Adobe Audition and Adobe Lightroom.